ULTRASONIC SIEVING SOLUTIONS FOR PRODUCT CONTAMINATION COMPLICATIONS
// 9/23/2019 12:00:00 PM
If you are familiar with ultrasonic sieving and have concerns over contamination of your product then this blog will grab your attention. Recently, one of our customers approached us with a difficult request. They needed to have an ultrasonic screener that consisted of 100% stainless steel contact parts.  A traditional screener consisting of all stainless steel contact parts did not produce the yield and throughput needed for their process and inquired about providing a screener with ultrasonics. This request included the screen frame and the sieving surface (wire mesh) had to be free of any adhesives, etc.
Since our standard ultrasonic frames are machined aluminum this posed a challenge for us. Although we have tried making stainless steel screen frames in the past, the density of the stainless gave us some issues in transmitting out ultrasonics through the frame and across the screen surface. The second requirement of the screen surface being clear of any transducers which was an easy one for us since we currently do not attach our transducers to the screen surface. All of the other ultrasonic providers use some type of adhesive to bond the transducer and or some transmitting scrolls placed under the screen surface.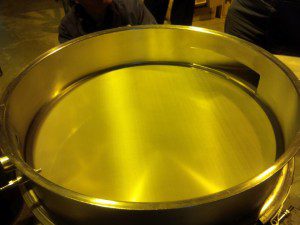 The challenge for us was modifying our ultrasonic transducer allowing the ultrasonic wave to transmit through the denser stainless steel onto the screen surface. Once we accomplished this through a little black magic (I can't give away our trade secrets!) we then modified our method of adhering the screen to the frame surface keeping any adhesive away from the product stream. The screen frame was considerably heavier than our standard frames but once we applied the ultrasonic charge to the frame we were extremely happy with the results.
My concern was the ability to run the ultrasonic system over a long period of time. The ultrasonic generator and transducer work much harder charging the stainless frame vs our standard aluminum frame. Once the prototype screener was assembled we ran the unit for an extended period of time – 48 hours to determine if we would experience any heat build-up. After this time period, we were extremely happy with the results. The final step in this project was an in house demo for the customer. They ran the unit for a couple of weeks with excellent results. The mesh stayed free from any blockage or blinding and the product yields increased.
Looking for a way to screen your product without cross-contamination being an issue? We can help. Contact us today!