THE NITTY GRITTY OF 3D PRINTING & POWDER SIEVING
// 7/6/2020 12:00:00 PM
Here at HK Technologies, we have been sieving powder metal for quite some time. Our Ultrasonic Sieving Systems allow for sieving very fine atomized powders – down to 20 micron on conventional wire mesh and in some cases finer –using electroformed material provided by PrecisionForm, Inc. As the 3D printing industry has exploded, so has the need for finer powders. While I am no expert in the field of 3D printing, I have been involved in several areas requiring finer and finer mesh sieving.
Many of the 3D printing manufacturers install a very simple inline vibratory screener system in the powder feed system. These simple screeners typically sieve the powder through a 74 micron or 200 mesh screen. This ensures that no large foreign objects are being fed into the powder part building process. Many times the end-user needs finer powder to create the intricate parts they are producing. This powder is typically said to be +20 -25 micron powder. We are also told this powder is classified through an air classification process. The process, while quick and relatively easy, leaves a powder that is not always what it is claimed to be. When asked to check the accuracy of the particle size, we find there is almost always a significant amount, 10% or more, of finer material than claimed.
This finer material seems to give many 3D printers problems. The finer material can agglomerate and cause defective parts in the printing process. Our solution offers a stand-alone small batch powder sieving station to prescreen the powder prior to loading the 3D printer. Our Screening systems, The HK8 and HK12 Models (pictured below) equipped with our HK Ultrasonic Sieving System, allows for a quick check screening of the powder giving the manufacturer an opportunity to efficiently remove the very finest powder particles. This check screened powder is then loaded into the 3D printers.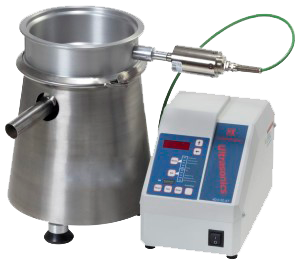 Pictured: HK Technologies HK8 Laboratory Screener fit with Ultrasonics
A secondary screening process involves reclaiming the powder after the parts have been produced. This reclaim powder is collected and also run through our Models HK-8 or HK12. With the price of these fine powders, the screeners can pay for themselves in a short period of time.
We also provide a line of larger production vibratory, ultrasonic sieving systems for the atomized powder producers. Our equipment line includes simple check screeners for raw powder coming out of the atomizers to remove larger agglomerates. The finer atomized powders are then screened to size. The sizes typically range in the -270 to -325 mesh sizes. Depending on the quality of the powder being atomized, meaning the percentage of "good powder" in the batch rates, can range from 400 lbs per hour to 1,000 lbs per hour. These screeners are also capable of operating under gas purging and/or pressure.
If you have any interest in speaking with us or having us run a sample of your powder please give us a call. We would be happy to discuss your application with you. I can be reached directly at jeffh@clevelandvibrator.com. Visit us online for more information.